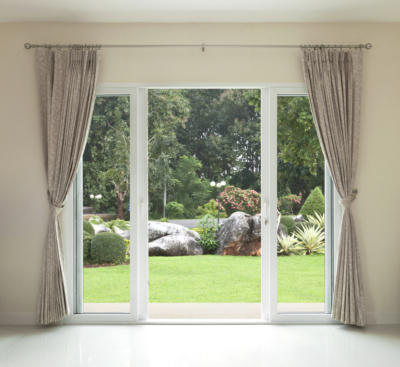 Garden Doors offer homeowners a highly sought after and thoroughly enjoyed an option that connects them to the outdoors.
Garden doors offer the security of a steel insulated door that also allows in large amounts of light. This is achieved through bigger panes of glass which have come to substitute the miniature ones, for those who prefer clearer views and less framework to their doors.
This versatile and classy addition to the Euro Choice line of fine doors and windows remains a very popular model for those homeowners who put a lot of work into keeping a personal garden and would like to see it, even when sitting indoors! To those green-thumbed homeowners out there who take the time to keep admirable gardens, Euro Choice simply says "go ahead, you deserve it"! Garden Doors are great for any weather conditions you may have; they are perfect summer doors, providing great ventilation and airflow control. In the winter, they keep in the warmth, leaving you to enjoy the scenic side of the season's snowfalls.
Euro Choice Garden Doors come with our highly effective weather-stripping, which implements a tight and positive seal on every side. Garden Doors can be cleverly combined in a space and with different styles to display natural lighting and outdoor life. A crank-operated panel allows for controlled ventilation, while the Garden Door also opens in the style of a conventional door as well. Built-in double cam-locks for safety and protection in security, Garden Doors may provide an "open" look but are lockable and sheerly secure. Sill-sweeps are a good option for the further emphasis on a tight close.
Euro Choice Garden Doors also feature extruded aluminum fitted screens or with the use of steel ball bearings which can adjust, a sliding screen can be utilized instead. Garden Doors also come in the Sunset model, with two operative door panels which can open outwards from the centre. While one door out of the pair can still be utilized as a walk-through door, hinged by its sides.
The Euro Choice Garden Window can make a charming addition to many areas throughout a home and can be simply delightful to enjoy the beauty of the seasons.